I winced at the thud when the trunk top hit my bag hard. It was already hanging halfway out the trunk of our red Hong Kong taxi, tied only by a single elastic strap.
With every bump in the road I thought of the fragile light box and the Plexiglas sheets I had loosely stowed in that bag. It was crucial equipment for creating a large scale tape artwork at the Hong Kong Art Fair that I had been invited to by The Sovereign Art Foundation.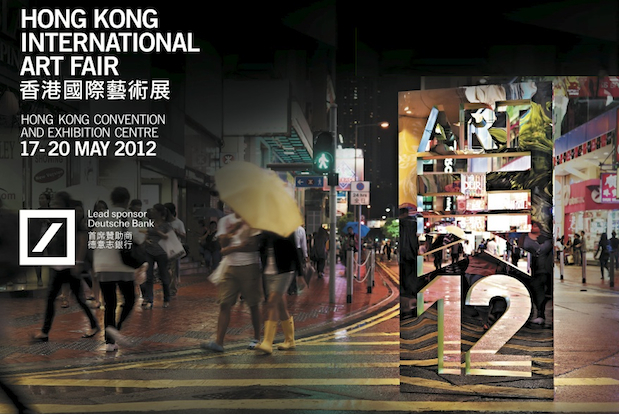 Behind the window beginnings of the Hong Kong harbor were gliding past us, with its rusty loading cranes and stacks of containers. Behind it were housing blocks and groups of high-rise skyscrapers reaching into the metallic sky.
It was a cloudy afternoon, the air was thick and stifling with humidity. Huge cargo ships ploughed through the grey waters, and far in the distance behind wavy green hills the silhouette of the Hong Kong arose from the mist.

(Hong Kong Bay – Tape on acrylic glass – 200 x 70 cm – 2012 – Max Zorn)
Another road bump shook the cab.
"Chill out, it will survive." Audrey turned to me when I again peered nervously through the rear window to see if my bag was still in the trunk.
Audrey is my sister-in-arms, the one with a telephone number and an official address. She knows what to wear and what say at a business meeting, and she is the kind of person you want to have around when the taxi driver is lost in Hong Kong, the credit card fails and half of the luggage is lost.
The pieces of memory I have of my first hours in town feel like a wildly blended cocktail of impressions. Huge advertising screens, sweat, damp, colors and foreign smell — it all moved too fast into my slow and jetlagged senses. But it left the good feeling the the next days would have a lot of work, madness and funky encounters in store.
For tonight, the plan was just to get wasted and get lost in Hong Kong.
We had grabbed a couple of cold beers at one of the countless 7/11 corner stores and waited for one of the boats ferrying across the Hong Kong Bay. Behind me I could feel the vibrantly humming, shimmering city, building itself to the waterfront like a herd of giant animals pushing forward. A Chinese junk boat with dark red sails silently drifted along the neon colored water.
"Fucking beautiful," I said.
"Yeah, man." Audrey opened another beer, "It´s Hong Kong… get use to it."
————————————————————————————————————-