FAQ´s
How important is light for your tape art?
What if the light goes off one day?
Is there a battery to charge the light boxes?
How did you come up with the idea?
How long does your tape art last?
Non-commercial use of images and artwork
Commercial use of images and artwork
—————————————————————————————————————————————————————
General Information about Tape Art
How do you create tape art?
For an up close visual explanation, I recommend watching a "making of" video.
The material I use is brown (and lately also colored) packing tape. I stick the tape in layers onto thin sheets of crylic glass. The more layers of tape I add, the darker the shades on the artwork become. The different shades of the color then allow me to shape out my scenes and portraits. I use an ordinary scalpel or X-Acto knife in order to cut and shape the layers of tape.
For more information about the material features, download the material sheet.

How important is light for your tape art?
Light is what brings my tape art to life. Like the effect of stained glass windows, light filters through the many layers of tape, creating a visual image image. Any kind of lighting can work: sunlight, candles, light bulbs, LED lighting and light boxes. But bottom line is: there's a big difference between a tape artwork that's illuminated and one that isn't.
Outside street lamps and other urban lighting are perfect urban display frames, but to display inside I came up with a few different solutions.
In order to display the works best indoor, we use customized light boxes which support the motifs with warm, low temperature light, individually adjusted to the specific artwork. Due to the long lifetime and low temperature of LED light you may keep the light on permanently.
Dimmer and switches for these LED systems are not part of this offer but widely available online and affordable. I will gladly help if you need recommendation.

What if the light goes off one day?
Adapters can die after a few years but the LED light is incredibly durable. The LED lights I use have an average life expectancy of 50.000 hours. In case they fail nonetheless, just contact us at info@maxzorn.com and we'll provide you with all instructions to replace the LED-strip. It's a module system that allows exchanging parts relatively easily.

Is there a battery to charge the light-box?
All light boxes have to be connected to the electric grid. An adapter/charger (that matches your region) and an extension cord are naturally included in your purchase. Experiments with batteries weren't fruitful yet, simply because the costs of the frame would increase unreasonably. Though somewhat annoying there are ways to hide the thin cable that connects lightbox and plug. During exhibitions e.g. we hide cables simply by taping them to the wall and painting the tape over with wall color.
How did you come up with the idea?
There's a lot of great street art by day, but it disappears after dark. I wanted to come up with urban art that uses nighttime as a setting, and there was nothing more inviting than the street lamps in Amsterdam.
In the beginning I used packing tape to fill in larger sections of my marker drawings. Once I hung them on street lamps, the light's effect opened up new ideas with ditching markers and just using tape. Here are some examples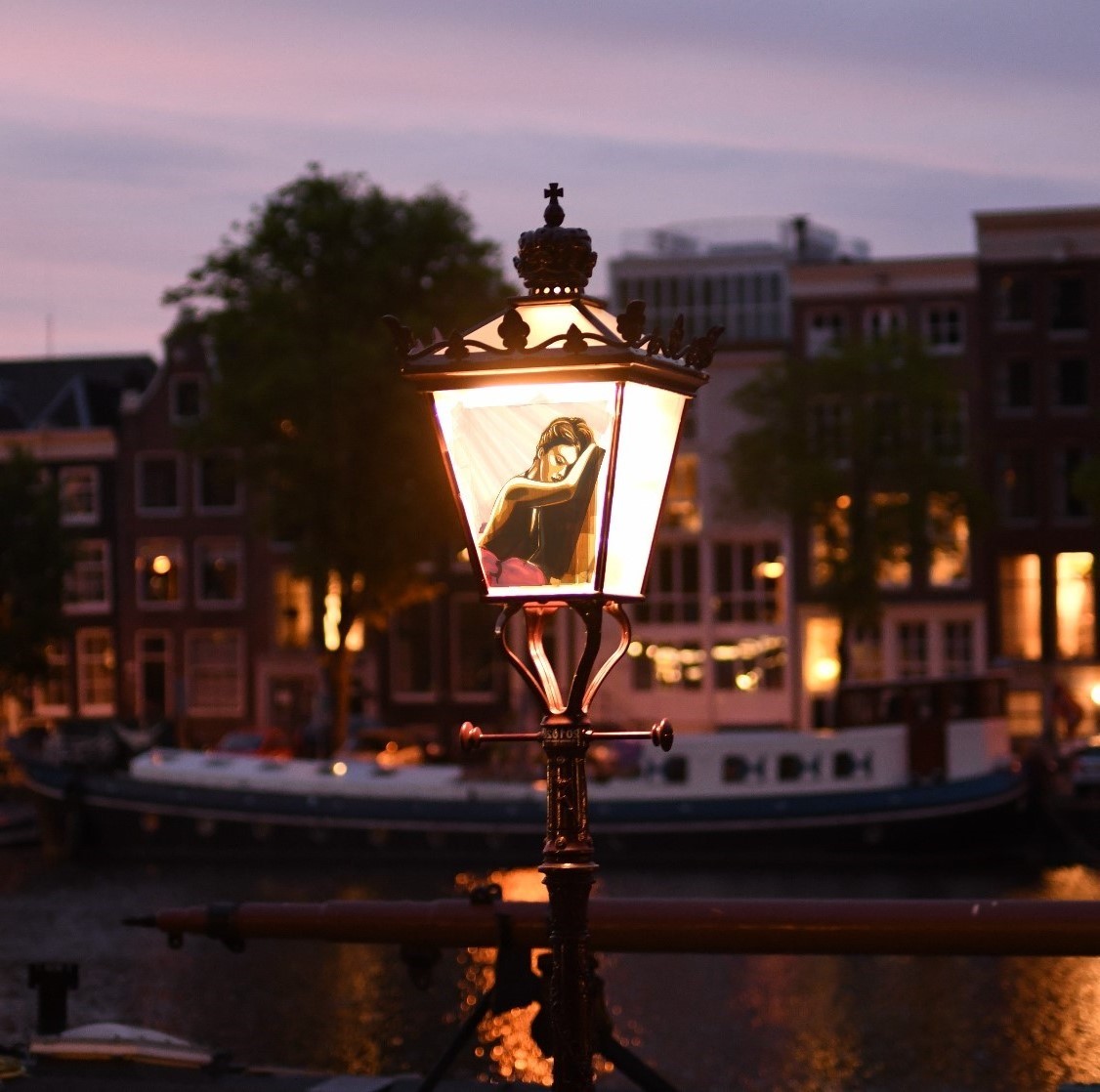 Can I buy artwork?
Absolutely, selling my art allows me to maintain my public projects and to focus on creating. I have tape artwork for sale in the buy-section.
How do I proceed?
Write me an email at buy@maxzorn.com and let me know the following:

Which artwork you are interested in

Which country you live in (to estimate shipping)

Any further questions about the artwork or the frame.

What is a "series"?
In some cases I create more than one version of a composition. Each artwork is always handmade, unique, signed, dated, numbered, and has its own personality and structure.

Why do you make "series"?
Repeating a theme allows me to work faster and therefore offer original artworks more affordably compared to a one-time-only motif.
Each single artwork is of course an original made from scratch, unique and signed. Although I try to have the artworks look alike, each one has its own character and differs slightly from the others. See it like the repeating performance of a Broadway play: although it follows the same script each night has a different dynamic.
A series is only one factor of what influences the value of an artwork: size, popularity, reputation and availability are others.

How long does your Tape Art last?
Compared to most other artworks, tape art is very resistent. If handled properly you can expect a very long life span.
I make sure to use only high quality materials. After an artwork is finished it is sealed airtight in order to prevent long term damages from CO2 and humidity. In addition the work is framed with UV-resistant acrylic glass. That not only protects the artwork from fading due to sunlight, but also encases the layers of tape between the two pieces of acrylic glass. If you detect any signs of aging please contact us at info@maxzorn.com and we will help you at no extra cost with restorations of the artwork within the first 5 years after purchase. One of the specifics of the LED lighting I use is its long life expectancy. Next to that LED light won't get warm and therefore cant harm the work.

Why is there a waiting list?
When an artwork comes in a series it doesn't mean I have already created all versions of it. With popular editions it takes me some time to follow up on the demand.

Copyright
The info on this website, displayed content and artworks are subject to copyright law. You may take and use all images you find on this website for your own fun. However, the reproduction, adaptation, distribution or any kind of exploitation outside the limits of copyright require the written consent of the author or creator, in this case Max Zorn.
Can I use your artwork or images of your artworks for non-commercial purposes?
Yes, you can use all images and pictures which are displayed on my websites (www.maxzorn.com and www.tapeart.info) free of charge for non-commercial purposes. "Non-commercial" basically means that you are not using my name or my artworks to make money, sell a product on my behalf, or promote your own business (like prints, merchandises, newspapers, television shows, advertisements, campaigns, etc.). If you would like to use my work for commercial purposes, please write an email to info@maxzorn.com for a brief request.

Can I use your artwork or images of your artwork for commercial purposes?
That depends a lot on what you want to use the artworks for. Please write an email to info@maxzorn.com to and we will discuss your project.